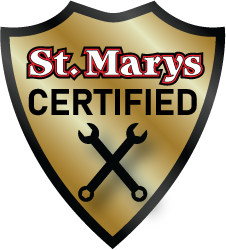 The St. Marys Certified Pre-Owned Program lets you purchase your next vehicle with confidence!  Our certified vehicles come with a limited service warranty and undergo a rigorous 125-point vehicle inspection, so you can drive your car off the lot knowing you're protected.
Coverages
A St. Marys Certified Pre-Owned Vehicle is instantly covered against failure or breakdowns for all of the following:
Engine and Transmission
Seals and Gaskets
Air Conditioning
Fluids and Lubricants
Drive Axle (FWD/RWD)
Steering
Electrical
125-Point Vehicle Inspection
For a quality car at a great price, look for the St. Marys Certified Pre-Owned Vehicle seal. Each car undergoes a rigorous, 125-point inspection, providing you with a worry-free purchase. A St. Marys Certified Pre-Owned Vehicle is a quality, dependable vehicle, giving you the confidence you need today and the protection you may need tomorrow.
Other Benefits 
Substitute Transportation:     
      Provides payment or reimbursement for actual rental vehicle expenses incurred  while the vehicle is undergoing repairs covered by this Limited Warranty, not to exceed $40 per day, for every 8 labor hours, total not to exceed $320.
Towing/Road Service:     
    Provides reimbursement for receipted towing or road service expenses up to $150/occurrence. No deductible applies to this benefit.
Trip Interruption:    
   If a breakdown requires the vehicle to be at a repair facility overnight more than 100 miles from your home, then you will be reimbursed, with no deductible, for receipted motel and restaurant expenses up to $150 per day for a maximum of 3 days.
Lost Key/Lock Out:     
    Provides arrangement for a service provider to unlock the vehicle and payment for the locksmith service, up to a maximum of $100 per occurrence, excluding the cost of replacement keys.
Check out our selection of certified pre-owned vehicles to find your perfect car, truck, or SUV with added protection and peace-of-mind.